ROEMHELD at the EMO focuses on digitalisation and automation of processes
Clamping elements with digitalised stroke measurement and integrated sensor technology
Fair novelty: STARK robot gripper with media supply and zero point clamping system
The ROEMHELD Group will focus this year's EMO presentation on digitalisation and automation. The innovations include a series of clamping elements with integrated electrical stroke measurement. New sizes of fully electrical swing clamps as well as the zero point clamping systems STARK.connect and STARK.airtec with fully integrated sensor technology.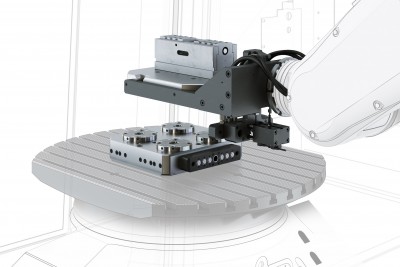 Also, the first STARK robot gripper with zero point clamping system for automated pallet change even on machine tables without their own media supply will celebrate its trade fair premiere.
On display for the first time is a pneumatic swing clamp whose clamping force is maintained in the case of a pressure drop. The ROEMHELD Group will be presenting all new products and a selection from its comprehensive product range for clamping technology in Hall 4, Stand E 54.
Electrical stroke control for clamping elements
For the digitalisation of clamping elements, ROEMHELD has developed a compact electrical stroke measurement which is already integrated in several products. It can be used to monitor the entire stroke range in steps of tenths of a millimetre. This enables the clamping element, for example, to detect different workpiece heights. The measured data is passed on to a higher-level control.
New eccentric bore clamps for machining on 5 sides   
For space-saving axial clamping and positioning, ROEMHELD shows a new series of eccentric bore clamps. Thanks to their slim design, the elements can be placed very close to the contour of the workpiece. The eccentric arrangement of the clamping segment also improves the accessibility of the component.For space-saving axial clamping and positioning, ROEMHELD shows a new series of
eccentric bore clamps. (Photo: ROEMHELD).
Thanks to its slim design, the eccentric bore clamp can be placed very close to the workpiece contour. The bore size can be easily adjusted using easily exchangeable clamping bushings, while the clamping element remains in its fixture. Also, the height of the support can be adapted: if the bore edges are lower than the rest of the support surface, different sizes are available. The support face will be cleaned with blast air, if required.